Buy, sell and mod: If it is a major name in pinball and arcade gaming, you will find them at the Rocky Mtn. Pinball Showdown and Gameroom Expo

It's like the sportsman's expo and comicon for pinball, arcade, and gamerooms! Exhibitors of all types of games, mods, parts, and collectibles are under one roof at this once-a-year festival. If they are a major name in pinball and arcade gaming, you will find them at the Rocky Mtn. Pinball Showdown and Gameroom Expo.

Who will you see at the festival?

•
American Pinball
American Pinball is located in the Chicago metropolitan Area, the pinball capital of the world. It is a company whose sole mission is to provide the highest quality pinball machines in the world. Their latest release Houdini will be at the festival.
​
•
Arcade Classics
sells classic arcade and pinball machines at THE 1UPSTAIRS.
•
ArcadeThings.com
Sells arcade themed toys and collectibles.
•
Arcadency
was founded by and for arcade and rhythm gaming enthusiasts. Arcadency's debut product, LumenAR is an independent lights controller for customized Dance Dance Revolution arcade machines running Stepmania or OpenITG.
• Centerpiece Arcades
builds custom arcade games for your game room or basement that will be the centerpiece of your home! Digital Pinball Machines are a must have for any game room and you also can build your dream arcade machine with a custom cabinet.
•

Comet Pinball
Our company goal is simply to find ways to bring to fellow Pinheads a superior collection of LED products to enhance their personal games and collections. This creative customizing results in outstanding visual enhancements for gameplay. We are here to provide our customers with the best products, pricing, and customer support.
•
For Amusement Only
Pinball parts, supplies, manuals, schematics, fliers, coin-op books.
•
FTW/Lucky Strike
Got an urge to try something new? Lucky Strike Denver has you covered. With a tantalizing menu of chef driven cuisine, hand-crafted cocktails, and live local DJs, Lucky Strike Denver breathes new life into the typical bowling experience with chic modern decor and a one-of-a-kind atmosphere. Bring the family out for some friendly competition on our lanes, grab some after-work drinks on our spacious patio, or invite the whole office out for an unforgettable event inside our 20,000 square foot event space – complete with a luxurious private suite.
•
Game Exchange of Colorado
provider of home entertainment games and equipment throughout Colorado and much of the United States. We have an incredible inventory of new and used pinball machines, billiard tables, video games, and other entertainment products, including poker tables, arcade games, air hockey tables, shuffleboard games and even game room furniture!
•
Genghis Con Colorado The Kahn of gaming conventions
• Hyperspace Arcade
is an authentic 1980s-themed arcade located in Denver, CO, with a huge lineup of classic favorites, like Asteroids, Tempest, and Frogger.
•

Iron Transfer LLC
PinRemote
™
is a unique device that allows the user to remotely control a modern pinball machine. The circuit communicates via an AES-secured Bluetooth radio link.
•
Jersey Jack Pinball
was founded because of a need for premium, no-compromise pinball machines -- games built with passion that are fun to play and become treasured for years to come.
•
Latenight Weeknight / Bloodshed Deathbath
With over 20 years experience in the industry - Ryan Policky, aka "The Night Mutilator" has been a part of some amazing projects. From making games for numerous Adam Sandler films, to doing motion graphics/video production for Nick Swardson and Ke$ha, his love of the entertainment industry is insane. As an owner of numerous pinball machines spread around Denver in venues such as Mutiny Information Cafe, The Black Box and Vision Comics and Oddities, he uses the funds collected to not only create silly and weird horror flicks for Bloodshed Deathbath Productions, but also to help put together his unique yearly haunted house pinball tournament titled "Horrorhouse Fest Pinball Tournament of Death", now in it's fifth season! Stop by and learn more at his crazy booth, or watch in horror as he roams around and films the festivities going on all weekend long at the Rocky Mountain Pinball Showdown and Gameroom Expo!
•
Mezel Mods
The premier location of high quality, unique, handcrafted modifications for your pinball machines.
•
Pin Stadium Lights
​
Pin Stadium Lights were formed from a simple idea to create a pinball LED lighting solution for our collection- one that did everything on the wish list when it came to enhancing the experience of an already awesome machine.
•
Pinball Jones
is a family friendly arcade and pinball hall offering two great locations in Ft. Collins - Campus West and Downtown. All ages are welcome. Games operate on quarters and cost anywhere from .25 to $1.00 per play. They have a rewards card for return customers offering free games, free drinks and free swag!
•
Pinball Pro
A source for new games, concessions, accessories, Buckwerx Audio, and speaker kits.
•
Renewal by Andersen
Full-service replacement window division of Andersen Windows.
•
Southworth Enterprises Offering fun pop-culture collectibles.
​
•
​
Tilt Pinball
Louisville's popular pinball arcade is back in the basement of The Corner in Louisville at 640 Main Street
Pinball & Arcade Games;
Pool, Skee-ball, Bubble & Air Hockey;
Pinball & Table Tennis Leagues;
Craft Cocktails & Beers;
Made from Scratch NY Style Pizza, Salads,Meatballs and More;
The Event Space & Arcade Party Room;
Private Rental, Youth Parties, Happy Hours and Meeting Space;
Families – Pinheads – Late Night Crew

•
Universal Sales
Universal Sales and Service has been selling, buying, leasing, repairing, and moving all types of coin-operated equipment in Colorado for more than 20 years.
•
VP Cabs
Located in Cincinnati, Ohio, VP Cabs is American-owned and -operated that prides itself on making the absolute highest-quality pinball machine on the market.
​
•
Wreck it Ruiz
Custom build, buy, sell, trade and repair arcade machines. Located in Cheyenne,WY. We can deliver or ship nationwide.
•
Zen Pathz Productions
With over twenty years experience building multimedia software including games, simulations, websites, and interactive worlds, our current projects are being built by developers, artists, producers, musicians, testers, and marketing individuals located primarily in the Colorado area.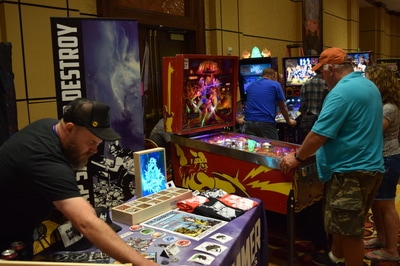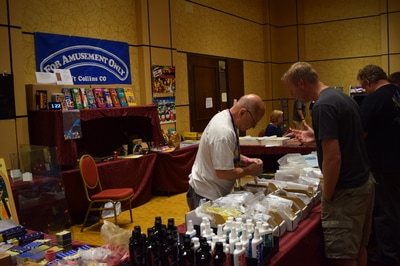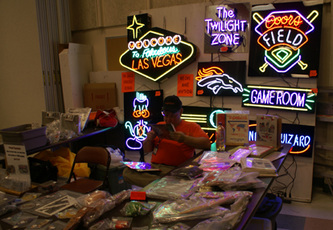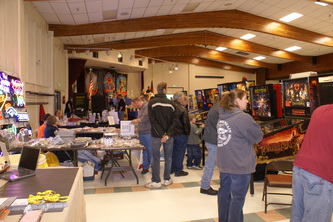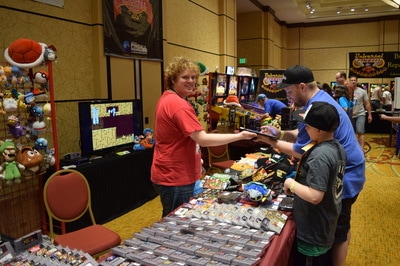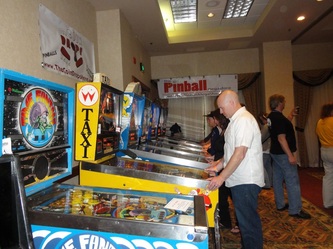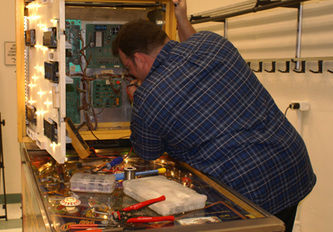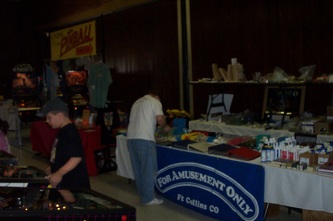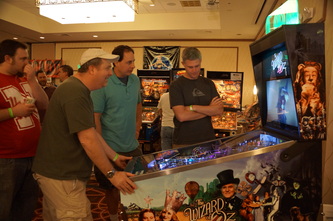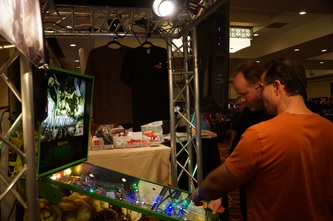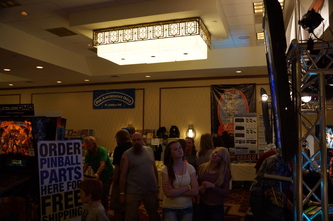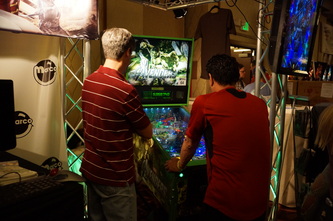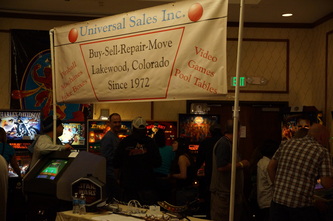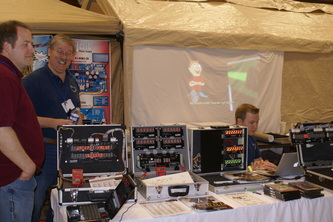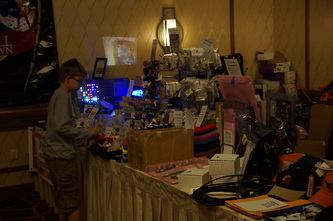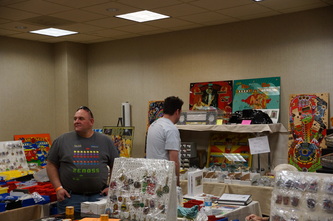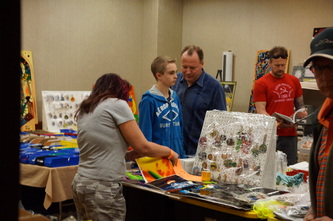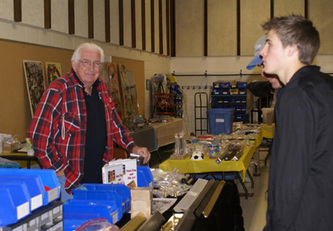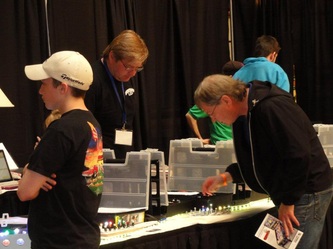 Play and stay

Make hotel reservations at the new festival location!
Denver Marriott Tech Center
with rooms from $109/night. Book the special rate before the room block fills up.
Click
or call now: 303-779-1100.
Admission

General admission dates - NEW for Memorial Day Weekend!
Enter and exit freely with wristband.
•
Saturday, May 25, 11 am - midnight
•
Sunday, May 26, 10 am - 10 pm
•
Monday, May 27, 10 am - 5 pm
General admission pricing
All ages welcome.
• Adult:
$35 per day; $85 3-day
•
Kids (7-12): $18 per day; $35 3-day
•
Kids 6 and under, FREE
​
Festival location
The festival is located at a
NEW, BIGGER LOCATION
:
Denver Marriott Tech Center
:
4900 S Syracuse St, Denver, CO 80237
. Free parking and next to public transit and lightrail.
See your company name everywhere

Call 303-938-9889, or
click
to email for access to sponsorship opportunities where we will include your name everywhere. Two words: target audience.